A Good Song Is a Joy Forever, Isn't It?
I like to get kids reading and singing beautiful songs, silly songs, happy songs, dramatic songs, songs that tell a good story, songs that make you smile, songs that make you want to sing, songs that make you want to dance, songs that bring people together and touch your heart. A good song is a joy forever, isn't it?
When I was a young guitar playing college student, I only knew a few songs for children: Going to the Zoo by Tom Paxton , Puff, the Magic Dragon by Peter Yarrow (both were made popular by Peter, Paul and Mary) and The Car Song by Woodie Guthrie. After I started teaching elementary school children, I started writing mostly silly, fun songs for kids whenever I could.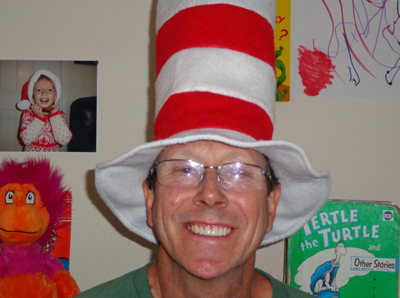 For example, for K-1st graders I wrote: A Short Vowel Song and The Howlin' Long Vowel Song. For 6th graders, I wrote the seriously silly songs, We Love Math and I Am a Big Tough Caveman. To help commemorate Dr. Seuss's birthday, and to celebrate READ ACROSS AMERICA, I volunteer every year during the week of March 2nd. For that specific purpose, I wrote a super fun Thank You, Dr. Seuss song in order to get 2nd -6th graders rockin' and singin'. I pretty much borrowed the melody from Paul McCartney's Obla Di Obla Da by The Beatles, but wrote some lyrics to say, "Thank you, Dr. Seuss, for writing & illustrating so many awesome stories that encourage us all to read, read, read!" For K-1st graders I wrote a short, simple song inspired by Dr. Seuss's Hop On Pop.
Many of the songs I sing with kids are seasonal: a couple of zany THANKSGIVING/TURKEY SONGS, several HALLOWEEN SONGS, and a few WINTER HOLIDAY SONGS, etc.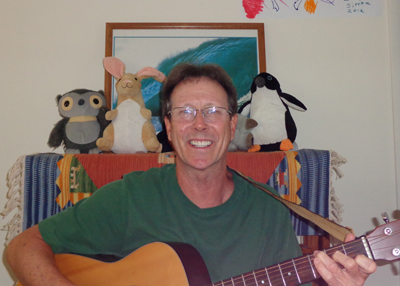 In addition, many of the songs that my students have really enjoyed over the years are pretty famous songs written by very talented recording artists: House at Pooh Corner by Kenny Loggins, Lahaina by Jim Messina, & The Jolly Mon by Jimmy Buffet (which goes along with the beautiful children's book Jimmy wrote with his daughter, Savannah).
Finally, since my debut children's picture book, Harriet Can Carry It, is now available, I wrote a super fun uptempo song, called Harriet's Song, which is now available here for free.
It's all about the music, isn't it? So, come along and we will laugh, read, and sing together!